Bathroom Safety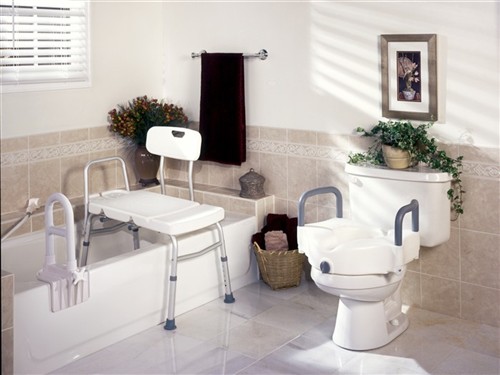 GRAB BARS
These invaluable safety support bars are an asset in the bath or shower. Bars must be permanently attached to the wall. It is important that they are mounted into the stud behind the tiles (this should be done professionally). Hardware for stud mounting is usually included. Safety support bars are made from either rust-proof stainless steel or high impact plastic. A knurled handgrip on the bars prevents the hand from slipping. These bars can be installed vertically, horizontally, or even diagonally.
BATHTUB SAFETY RAILS
Bathtub safety rails assist individuals as they enter or exit the tub. They provide additional height to the tub wall. The tub rails are generally of a clamp-on or suction cup design and do not require any tools for installation. Bathtub rails come with rubber pads on the inside to prevent any movement, and to protect the finish of the tub from scratches.
BATH SEATS
Shower and bath seats were engineered for safe bathing. They are most often used by people who have difficulty with co-ordination and strength. Bath seats are available with or without a back, with adjustable legs, padded seat, are made of blowmoulded plastic and offer standard or adjustable seat depth.
BATH TRANSFER BENCHES
Bath transfer benches are known to have a larger seat area than bath stools or seats. The bench "straddles" the tub which allows for easy transfer from a wheelchair onto the bench. The user then slides over and is able to easily place his or her legs into the tub.
BATH TRANSFER BOARDS
Transfer boards are also used to transfer into and out of the tub. They may also be used as a bath bench as they are easily adjustable and no tools are required. They may also be used when travelling.
TOILET SAFETY FRAMES
Often paired with a raised toilet seat, the toilet safety frame is designed to provide an individual with secure hand support when raising and lowering him or herself. They are easily and quickly installed and are adjustable in height and width.
RAISED TOILET SEATS
Raised toilet seats are generally recommended for those with difficulty sifting or standing. They add height to the seat, which reduces bending at the knees. The seats are available with or without a clamping mechanism. The clamping mechanism prevents the seat from shifting, as it is securely and easily clamped onto the bowl. Raised toilet seats are also available in blow-moulded (fixed height usually 4" or 6") and adjustable (height can be adjusted from 4"6").
BEDSIDE COMMODES
Utilized for the user who is able to move from a bed or wheelchair without assistance. These commodes usually sit beside the bed so that toileting facilities are readily available. Commodes are also available in several different styles.
BED PANS AND URINALS
Modern bed pans and urinals are constructed of durable plastics. Two choices are polypropylene, which is autoclavable, and polyethylene which can only be boiled. The hospital style bed pan is the one with which people are most familiar. The fracture style must have a low profile so it can be easily inserted under a client. This is most commonly used when the client has difficulty raising his/her hips. Urinals are made from the same materials as the bed pans. They must be able to hold the contents without spilling over, therefore, stability is very important.

For More Information Visit:
myaquasense.com