Specialized Foot Care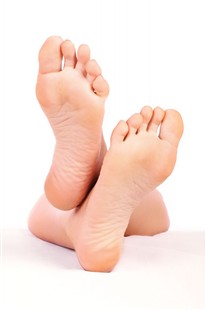 ABOUT FEET
Of the hundreds of known foot ailments, many can be traced to four of the most common causes: heredity, injury, improper foot care, and the effect of aging.
Women generally have about four times as many foot problems as men - high heeled shoes are often the culprits.
The foot is an intricate structure designed for strength and flexibility. Each foot contains about 26 bones, and together, the 52 bones of the feet make up about one quarter of all the bones in the body.
When you step, the body's weight is borne by the foot in a path that touches all three points. A step starts at the heel, moves to the outside of the foot, then shifts again toward the base of the great toe. Whether standing or walking, these areas of the foot bear most of the body's weight.
SHOE BUYING TIPS AND FOOT CARE
When buying shoes, ensure that they are comfortable and do not require a "break-in" period. The shoe heel should fit snugly and there should be 1/4" to 1/2" of room between the tip of the longest toe and the tip of the shoe.
For long lasting comfort, keep shoes clean and in good repair. Do not let heels wear down or they throw the foot off balance and create strain.
Rest feet by elevating them to improve circulation. Massage feet to relieve tension. Using fingertips, start at the ball of the foot and work up along the sole to the heel. Also, relax each toe by pushing it back and forth gently.
FOOT CARE GUIDE
Here are some problems that affect feet and suggestions to help cope with each condition:
Callouses : Symptoms and cause: Reddened sore skin followed by thickening of the skin. Caused by friction and pressure usually from loose fitting shoes, weakened arches or tight fitting hosiery. Solutions: Proper fitting shoes, callous cushions and/or callous removers.
Corns: Symptoms and cause: Irritated skin followed by painful skin build up. Caused by prolonged pinpoint pressure from tight shoes. Solutions: Remove the cause of the rubbing and friction. Try footwear that fits, corn removers, and/or corn cushions.
Bunions : Symptoms and cause: Redness and pain at the big toe joint followed by development of a bony bump. Can be hereditary or caused by tight shoes which irritate. Solutions: Consult a physician or podiatrist, use bunion cushions, a bunion guard and/or toe flex.
Foot Odour : Symptoms and cause: Offensive odour from feet and/or shoes. If severe, skin on feet can redden and peel. Caused by excessive perspiration which promotes bacteria growth. Solutions: Daily hygiene, change socks, use foot powder or spray, and/or odour insoles.
Athlete's Foot : Symptoms and cause: Intense itching. Skin may develop small blisters, become cracked or scaly, or form red, irritated skin patches. Caused by poor hygiene and tight fitting footwear in hot, humid weather. Solutions: Antifungal spray or athletes foot powder. Change socks/hosiery daily.
Low Back Pain : Symptoms and cause: Pain in the lower back area caused by foot shock and overexertion. Solutions: See a physician and use proper insoles.
Shin Splints : Symptoms and cause: Pain along the front, back and/or side of the tibia (shin bone). Often due to overexertion or foot imbalance. Solutions: For temporary relief, use ice and rest. Try "sport" insoles or foam arch supports.
Frostbite/Cold Feet : Symptoms and cause: Numbness, white appearance on foot when exposed to cold temperatures. Wet/cold feet or poor blood circulation may be the cause. Solutions: Wear roomy, water-resistant boots with fleece insoles.
Tender Skin/Blisters : Symptoms and cause: Sore, Red, burning skin caused by friction against shoes and/or hosiery. Fluid build-up under skin. Solutions: At first sign of irritation, apply moleskin padding around red area. Keep feet dry.